[Bus] [Car] [Driving to Cerny Vul] [Directions] [More Information] [Car Rental] [Prague Guide]
Click here for a map showing Cerny Vul just outside Prague
Click here for directions for driving to Conifer Cottage
Click here for directions for driving to Cherry Tree Cottage
Flights Coaches and Trains
Click here for details of Prague flights, coaches and trains.
Click here for details of IdyllicPrague key collection or greeting at Prague Airport.
Taxi and Cars
Click here for details of Taxis. Click here for guidance if driving into Prague in a Car.
Click here for a guide to using Buses, trams and metro
Click here for the schedule of bus times from Cerny Vul to Prague
Click here for a map of the bus journey to "Bořislavka"
Click here for the Prague transport web site
Pictogram giving bus and metro directions to Historic Prague and Prague Airport (click here for pictogram): -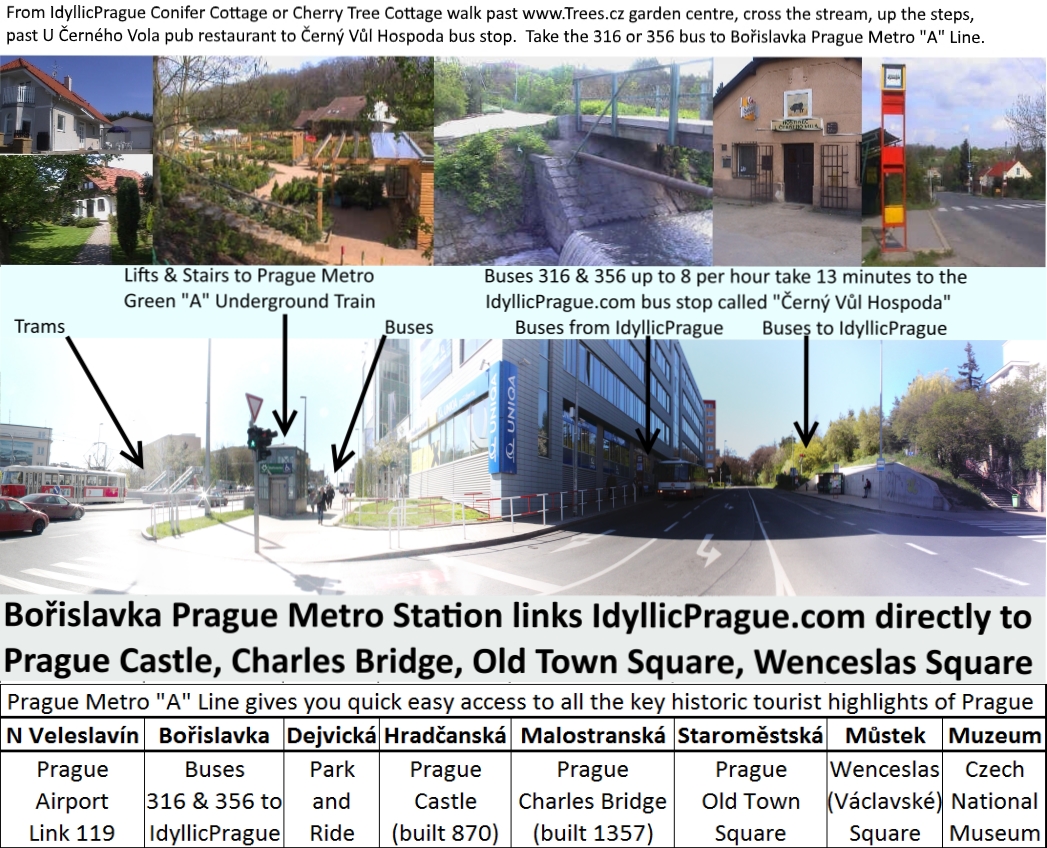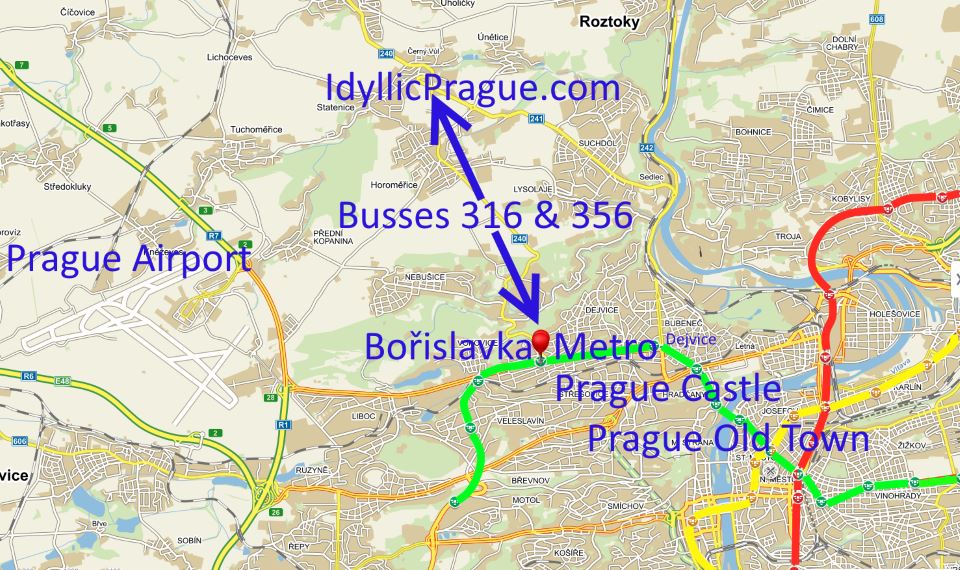 Buses number 316 and 356 take 13 minutes to travel through fields and forests into Prague
"Bořislavka" stopping at intriguing villages. The Buses are pleasant and extraordinarily punctual.
Guests have commented on how much they have enjoyed the Buses. (click here)
The Buses terminate at "Bořislavka", a key interchange for buses and trams and Prague Metro Line "A".
Prague Metro Line "A" underground railway connects all the famous Historic Prague sites including
Prague Castle, Charles Bridge, Old Town Square, Wenceslas Square and the National Museum and Opera.
"Bořislavka" is a convenient point from which to access any part of Prague centre.
Cerny Vul Buses typically start at 04:30 and finish at 23:30, with 6 per hour at peak.
Additional Buses run to Únětice and Suchdol. Night Buses follow different routes.
The Cerny Vul bus stop is an easy 5 minute walk (or slow 10 minute walk) from the house.
Walk past the garden centre, cross the footbridge over the stream, and turn left,
walk past the "Cernyho Vola" pub and cross the pedestrian crossing to the bus stop.
It is particularly convenient to buy day, week, month or year tickets that cover all
Buses, trams, metro and trains within Prague, and are even valid for the sight-seeing
funicular railway!
A taxi will take 15 minutes to drive into Prague and may cost around 350kc (£12).
A taxi to the airport takes 10 minutes and costs around 500kc - 600kc (£17-£20).
To call a taxi, simply pick-up the house telephone and dial 14014. This will
connect you to AAA taxis. The house telephones are registered with AAA,
so as she answers your phone call the English speaking taxi telephonist will
see the address of the house on her computer and will know where you would
like to be collected from! All you need to do is to tell her at what time you
would like the taxi to arrive.
If you need help, just phone IdyllicPrague and our English speaking Czech staff
who have an excellent knowledge of Prague will be pleased to offer assistance.
AAA taxi telephonists and many taxi drivers speak adequate English, but for extra
assurance we will provide you with destination address cards to show to your
taxi drivers.
The two largest taxi firms, AAA Taxis tel:14014 and Profi Taxis tel:14015 are reliable, reasonably priced and completely honest. Their telephonists speak adequate English.
Ironically the most dishonest taxi firms are the ones who are most adept at attracting tourists and unwary expats. Particularly to be avoided are the smooth taxi operators who display credit card signs on their cars or who call themselves "official" or who substitute another word such as "Transportation" for the word "Taxi" eg "Transportation to Hotels".


Please do not use these taxis!!!
Click here for "Point-And-Go" A4 Taxi sheet - a simple practical guide to directing taxis.
Click here for mobile phone SIM card for easy taxi ordering
Click here for details of the IdyllicPrague personal chauffeur service.
www.Expats.cz/content/SurvivalGuide2008/6-SG2008-TravelTransportation.pdf
""We highly recommend that you order a cab by phone, rather than flagging one down on the street. Unregulated taxis prey on tourists (and others) and in a best case scenario you'll get taken around the city on a highly inflated rate. City Taxi and AAA both run an SMS taxi service, eliminating the need to try and say unpronounceable street names. To order a taxi by SMS, include your name, pick-up location, and pick-up time, and you should receive a confirmation text with the number of your taxi. Taxi Numbers AAA - 140 14 (SMS 606 999 069) City Taxi - 257 257 257 (SMS 777 257 257) Note: AAA Taxi has introduced "Fair Price" taxi stops in Prague1 and at the airport, identified by a yellow 'thumbs-up', in hopes of preventing tourists (and others) being taken for a ride. We still recommend you order a taxi by phone rather than searching for one of these stops and waiting in a queue.""
For details of SMS Taxi ordering, click here
- but not all press comment regarding AAA Taxis has been positive click here
Avoid driving into Prague centre if you can. Instead you might consider driving to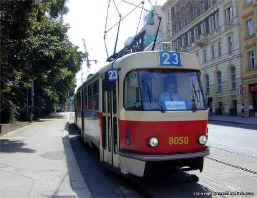 Dejvice and then taking the metro into the centre.
To drive to Dejvice, (map) (Vitezne nam.) drive past the
garden centre, turn left onto the main road, and then
simply keep straight on. Eventually you will pass the
"Crowne Plaze" hotel on your right. Soon after you will
arrive at a large roundabout. This is Dejvice. Open air
parking is available just before the roundabout on the
right. It is not expensive, and if you collect your car
after the parking attendant has left work you will not
have to pay at all!
If you do drive into the centre, convenient underground car parks are situated beneath
the Kotva (map) shopping centre or under the National Theatre Národní divadlo (map).
Click here for suggested routes for driving into Prague. Click here for car rental.
Click here for directions for driving to Conifer Cottage
Click here for directions for driving to Cherry Tree Cottage
Click here for directions for driving to Ve Mlejne Restaurant
Click here for GPS SatNav Directions to Conifer Cottage and Cherry Tree Cottage.
Click on the map below for an interactive map with zoom, aerial view etc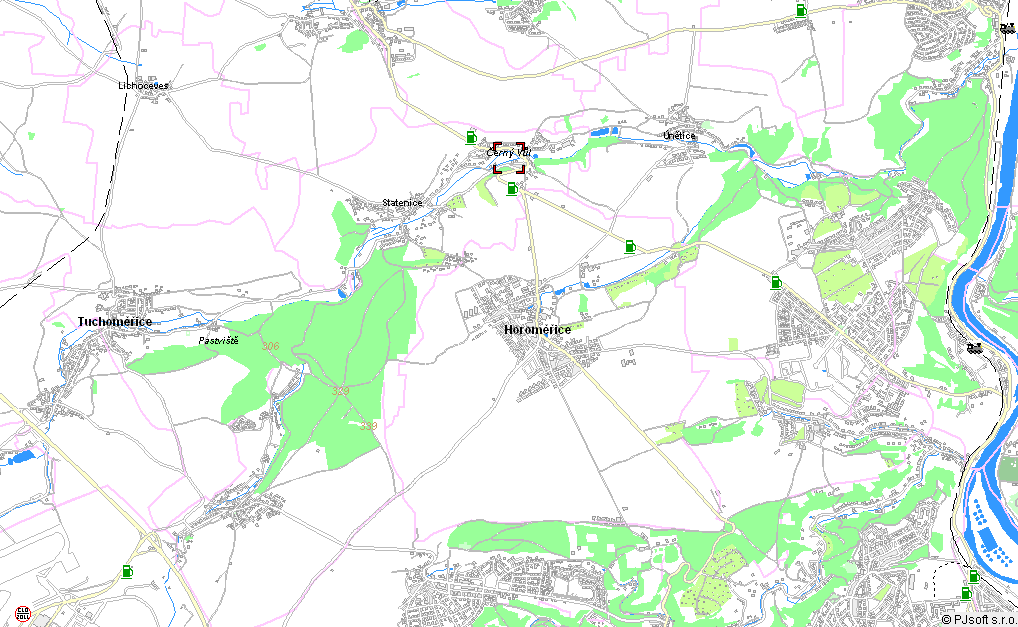 The map below suggests in red some routes for driving into Prague:-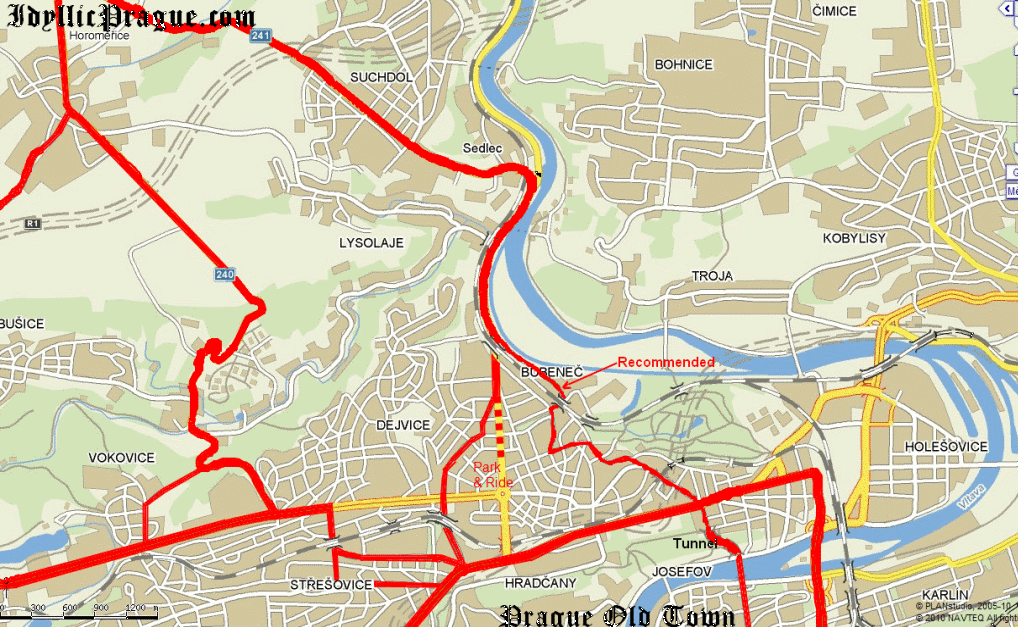 We recommend the Park and Ride at Dejvice:-

For more information, click here
For a travel guide click here
Click here for GPS SatNav Directions to Conifer Cottage and Cherry Tree Cottage.
[ Home ] [ Cottages ] [ Photos ] [ Guest Comments ] [ Travel ] [ City Tips ] [ Exploring the Countryside ]
[ Local Pubs ] [ Wheelchairs ] [Weddings] [ Currency Converter ] [ Book Now! ] [ Contact Us ]