[ Home ] [ Up ] [ Shopping ] [ Local Pubs ] [ Photos ] [ Currency Converter ] [ Guest Comments ] [ Weddings ] [ Conferences ] [ Rent-a-Chef ] [ Exploring the Countryside ] [ Book Now! ] [ Flights ] [ Contact Us ] [ Travel ] [ City Tips ] [ Wheelchairs Welcome ] [ Cottages ] [Prague Guide]
For a Guide to Enjoying Prague, click here
Personal safety
It is not easy to rationalise impressions of personal safety, but we feel safer in Prague than we do in most places, including Britain.
Sadly although possibly no worse than many European Cities, Prague City Centre has acquired a bad reputation from the activities of a few professional international pickpockets. These expert pickpockets may comprise foreign family gangs of multiple generations, who find Prague tourists particularly easy and lucrative targets. But foreign pickpockets targeting foreign tourists are a specific, isolated problem. The Czech people are wonderful to live with and extraordinarily socially responsible. We have much to learn from their relaxed, caring life style and work life balance.
For helpful safety tips, click here. We recommend that you minimise the cash you carry into Prague City Centre by taking cash out of ATM cash machines every few days. Keep valuables securely and discreetly inside clothing rather than in easily accessible bags and pockets.
Local knowledge
If you need help, just phone IdyllicPrague and our English speaking Czech staff, who have an excellent knowledge of Prague, will be pleased to offer assistance.
Money
The Czech currency is the crown (korun českých, abbrev. Kč).
Obtaining local cash from an ATM cash machine is simple, safe, and usually far better value than any alternative. Avoid using "foreign exchange offices" in Prague City Centre, they have a very poor reputation (click here for more details). Never change money on the street. Click here for other suggestions.
Emergencies
Telephone 112 for All Emergency Services, 150 for Fire, 155 for Ambulance and 158 for Police. Click here
City Restaurants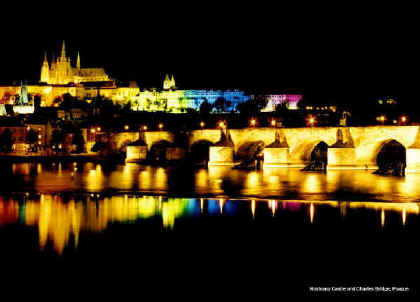 For details of Prague City Centre Restaurants, click here and here
For a different view of Czech food, click here
City Shopping
For details of Prague City Centre Shopping, click here and here
For a guide to exploring Prague click here
Czech Language
For helpful tips for understanding and speaking Czech, click here and here
Driving
For helpful tips for driving in the Czech Republic, click here
Virtual Tour of Prague
For a virtual tour of Prague, click here
WebCam Tour of Prague
For a webcam tour of Prague, click here and here and here
[ Home ] [ Cottages ] [ Photos ] [ Guest Comments ] [ Travel ] [ City Tips ] [ Exploring the Countryside ]
[ Local Pubs ] [ Wheelchairs ] [Weddings] [ Currency Converter ] [ Book Now! ] [ Contact Us ]