[ Home ] [ Up ] [ Infants ] [ Extra Beds Conifer ] [ Inventory ] [ BroadBand ] [ TV Den ]
For an inventory of the house click here. For more photographs, click here
For local shopping click here For Infants on Holiday click here For high definition photos click here
Conifer Cottage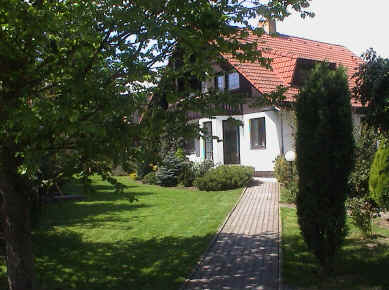 Conifer Cottage has 3 bathrooms 3 toilets
and 6 double bedrooms, plus sofa beds
in the living room etc, so can accommodate
up to 28 Guests. But it is equally cosy for just 2!
For details of extra beds, click here
Yet the intimate "honeymoon" atmosphere
of the Cottage also provides an ideal setting
for a romantic couple or small group.
Kitchen

The spacious kitchen comprises a double sink drainer, extensive worktop, fitted cupboards, electric fan oven, electric hobs, two microwaves, electric kettle, crockery cutlery and cooking utensils for 20 guests.

Utility room

The utility room leads conveniently from the kitchen and incorporates a dishwasher, a tall fridge freezer, and extensive shelving for food storage.
Dining Area

The dining area is open plan to the kitchen and extends into a garden bay with full height windows. A large dining table and ten stackable dining chairs are provided.
Living Room

The large living room leads off the dining area and includes a large settee/bed, armchairs, a television and book shelves. Books provided include guide books, books about Prague, reference books, and lighter reading.

Two patio doors lead out to the garden patio.
Garden Patio

The garden patio includes a built-in barbeque. Extensive garden furniture is provided and the patio can be shaded by an unusually large articulated sunshade umbrella
6 Double Bedrooms

3 double bedrooms are situated on the upper floor, one double bedroom is situated on the ground floor and 2 double bedrooms are situated on the lower floor. The ground floor bedroom includes a double bed, a folding bed, a wardrobe and a piano. The master bedroom upstairs includes a double bed, three large wardrobes, office desk and a balcony. The other two bedrooms both include two separate beds and wardrobes. Two additional light weight folding beds are available
3 Toilets
2 separate toilets are on the ground floor and the upper floor. A 3rd toilet is in the bathroom
on the lower floor.
3 Bathrooms
There are 3 separate bathrooms, one on the ground floor, one on the upper floor and
one on the lower floor. All 3 bathrooms include purpose built shower cubicles and
washbasins. The bathroom on the ground floor also includes a large bath and a
washing machine. The luxury bathroom on the lower floor includes a "Jacuzzi" style water jet bath.
Computer Work Stations and Broadband WiFi Internet
Computer work stations, ADSL broadband WiFi internet connection and
WiFi transmitter are provided in a work area on the upper floor.
Click here for details.
Television Den/5th & 6th Bedroom
A family television den is provided on the lower floor. A television, satellite receiver,
(CNN, BBC World) and DVD player are provided. Please do not rely on the TV or satellite
we recommend that you bring DVDs. The television den has been completely refurbished
for use as a 5th Bedroom. Click here for photos.
The 6th double bedroom on the lower floor includes a wash basin, mirror and razor
point. A luxury bathroom with Jacuzzi is also situated on the lower floor.
Garage
A large detached lockable garage is available on request.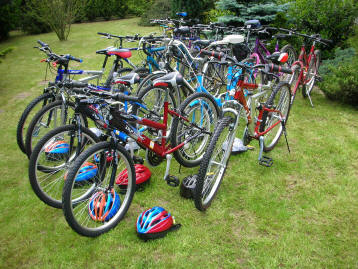 Bicycle Shed
A number of family bicycles are available for hire, on request. Click here for photos. Please note that bicycle rental is entirely at your risk. In order to ensure the availability and safety of personal protection equipment you should bring your own cycling safety helmet and other appropriate safety equipment, and check the safety of the bicycle you rent. Click here for details of the conditions of bicycle rental.
Inventory
For a detailed inventory of the contents of the house click here.
For more photographs, click here For photos of Guests enjoying Conifer Cottage click here
[ Up ] [ Cherry Tree Cottage ] [ Light Dimmers ] [ Cherry Garden Suite ] [ Cherry Tree Lodge ] [ Conifer Cottage ]
For more great vacation rentals all over the world - See VRBO Vacation Rentals by Owner